Game eCheese Zone Free Download

About This Game
Do you enjoy bad mini-games, boring rules, and brutal consequences?
Hold onto your hats, because we've got some wild news for you! Introducing the eCheese Zone: the ultimate punishment game! A digital escape room, it's perfect for suffering alone or enduring with some pals.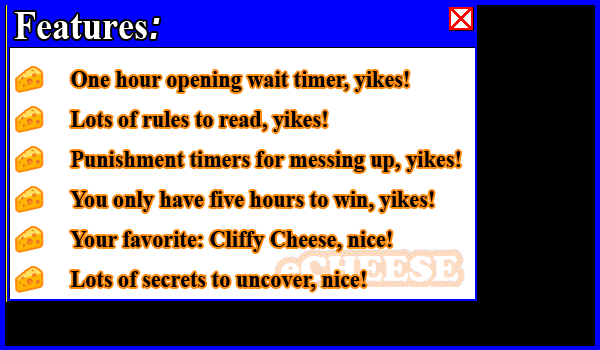 But hey, punishment timers build character. Playing alone and don't know what to do while you're waiting through your punishment? Go walk your dog. Call your mom. Embrace your punishment. Playing eCheese with others? It's a party game that let's you enjoy the party! During your punishment wait, go talk to with your friends, use the bathroom, eat some cheese snacks.
So, think you're hardcore enough to take on… the eCheese Zone? Gear up, gather your crew (or not), and get ready to chow down on cheese-themed content. Are you ready for the challenge of a lifetime? Prepare to struggle with simple directions!
Q: I keep seeing this game and I want to know what's beyond the opening wait timer.
A: Guess you'll have to play and find out!
Q: Can you guys remove the 1-hour opening wait timer?
A: No, it's tied to other important code and removing it crashes the whole game.
Q: What about the 5 hour time limit per play session?
A: No.
Q: Can you make it so it saves my progress at least?
A: No.
Q: Can you at least reduce the timer or make it less punishing.
A: Listen here you little puke, if you want to play a videogame that doesn't have a 1-hour long punishment wait timer for every time you mess up, or a videogame that doesn't make you read a bunch of boring directions, or a videogame that doesn't close out on you and forget all your progress after every 5 hours, you can play any other game on the internet. We spent a lot of time making this videogame and our parents are very proud of us and our friend Peter said it is a good game so it doesn't matter what you think and we're not going to change anything.
Title: eCheese Zone
Genre: Indie, Early Access
Developer:
Seemingly Pointless
Publisher:
Seemingly Pointless
Franchise:
eCheese Digital Product Series
Release Date: 20 Jul, 2023
Early Access Release Date: 20 Jul, 2023
Reviews
"Nobody has any concrete idea of what The eCheese Zone actually is and yet, people were drawn to it so clearly that you couldn't help feel wonder at this tiny corner of human achievement."
Kotaku
System Requirements
Minimum:

OS: 7
Processor: 2 GHz
Memory: 2 GB RAM
Graphics: NVIDIA GeForce 330 or higher
Storage: 100 MB available space
Free Download eCheese Zone Game
Full Game, latest version. Download for Free!